"Scaredy Pants" is the Halloween episode of the Nickelodeon animated series SpongeBob SquarePants.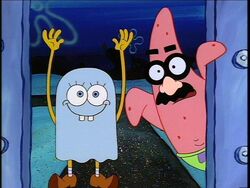 SpongeBob is always scared on Halloween, and everyone takes advantage of this, calling him "Scaredy Pants". SpongeBob has had enough of the teasing and being scared easily, so with Patrick's help, he decides to dress like the Flying Dutchman (really a plain bedsheet). SpongeBob is square, so nobody is scared and are instead laughing. Patrick shaves down SpongeBob's body so that he has a rounded top. When SpongeBob gets to the Krusty Krab's Halloween party, he successfully scares everybody by hanging on a rope controlled by Patrick until he's stung by a jellyfish, and runs around in pain, throwing SpongeBob around on the rope and revealing his identity. The real Flying Dutchman, offended by SpongeBob's portrayal of him, arrives to steal everyone's souls, but SpongeBob scares him and everyone else away by taking off his costume, showing his exposed brain and body due to the shaving from Patrick.
Availability
Edit
The episode made its home video debut on the SpongeBob SquarePants: Halloween VHS and DVD, originally released on August 27, 2002. Both releases also contained the episodes "Imitation Krabs", "Frankendoodle", "I Was a Teenage Gary", and "Squidward the Unfriendly Ghost", with the DVD also containing "The Secret Box", "Band Geeks", "Welcome to the Chum Bucket", "My Pretty Seahorse", and "Idiot Box". The DVD was reissued with new cover art in 2010.
The episode was also featured on the NickToons: Halloween DVD, released on August 26, 2003. It was later included on the SpongeBob SquarePants: The Complete 1st Season, released on October 28, 2003.
External links
Edit