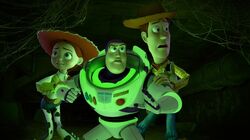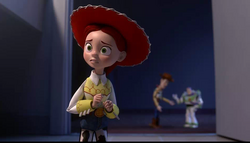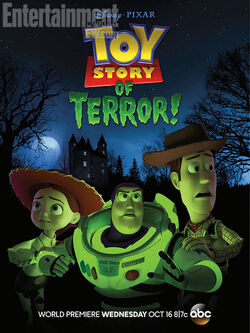 Toy Story of Terror is a Halloween TV special based on the Toy Story movies, it premiered on ABC on October 16, 2013, and the first television special produced by Pixar.[1] The special is directed by Angus MacLane and produced by Galyn Susman.[2][3]
Official Synopsis from Animation World Network: "What starts out as a fun road trip for the Toy Story gang takes an unexpected turn for the worse when the trip detours to a roadside motel. After one of the toys goes missing, the others find themselves caught up in a mysterious sequence of events that must be solved before they all suffer the same fate in this Toy Story of Terror."
Voice actor
Character
Tom Hanks
Woody[2]
Tim Allen
Buzz Lightyear[2]
Joan Cusack
Jessie[2]
Don Rickles
Mr. Potato Head[2]
Wallace Shawn
Rex[2]
Timothy Dalton
Mr. Pricklepants[2]
Kristen Schaal
Trixie[2]
Carl Weathers
Combat Carl
Combat Carl Jr.
Emily Hahn
Bonnie Anderson
Lori Alan
Mrs. Anderson
Kate McKinnon
PEZ Cat
Peter Sohn
Transitron
Dawnn Lewis
Delivery Lady
Jason "Jtop" Topolski
Vampire
Tow Truck Guy
Ken Marino
Pocketeer
Christian Roman
Old Timer
Laraine Newman
Betsy
Tara Strong
Computer
Angus MacLane
Officer Wilson
Josh Cooley
Officer Phillips
Dee Bradley Baker
Mr. Jones
Production
Edit
Toy Story of Terror is the first of two half-hour TV specials that are scheduled for 2013 and 2014.
Dylan Brown stated in November 2012: "Our first works at Pixar Canada were six-minute pieces, and some one-and-a-half-minute films, which we call shorty-shorts. But we set up the Vancouver studio to produce the 22-minute specials. Pixar in California is currently working on the first one, called Toy Story of Terror."
At D23 Expo, the first ten minutes of the special was shown for D23 attendees.
References
Edit
External links
Edit